I had the best time with Mamarazzi on her Favorite Things Swap!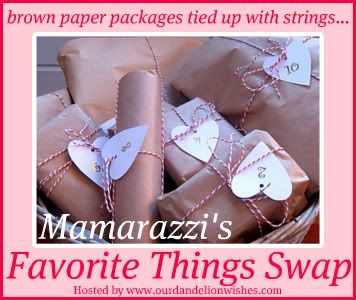 I enjoyed shopping for it! I enjoyed wrapping it and I mostly enjoyed the fact that I knew the blogger already and we have a ton in common! My partner was Lisa from
Ramblings of the Cool Chick
. She is an amazing woman and we ended sending each other similar things! Here is what I got:
1st off Lisa sent a package of her favorite I spy game for my kids! She is sweet to remember that I have 4 kids!
I got Peeps(which are my favorite candies), and RED nail polish(I sent her some too), some Coconut Mango Lotion from B&BW, some slippers with aloe in them from the same store. I, also, got a journal and some thank you note cards(sent 1 back to her), a book of devotions with memorable Bible verses,
My Sister's Keeper
(a movie), some crafting stamps, razors, and a candle. Oh and some CoverGirl Mascara which I use too and is my fave! This was such a nice surprise to come home from vacation to find! Thanks, Lisa! We can swap anytime! Hugs to you!